We have been beyond blessed with wonderful meals since having Junebug and when people bring you meals in the South they bring the works! Think main dish, side dishes, dessert, bread and the list goes on! This week we had more bread than we could use with our meal AND an unopened carton of heavy cream needing a reason to be used....in comes bread pudding. I set out to make french toast bread pudding but changed up the recipe and got what tasted so much like creme brûlée and it was amazing! I didn't take any pictures of the process but still want to share the recipe with you.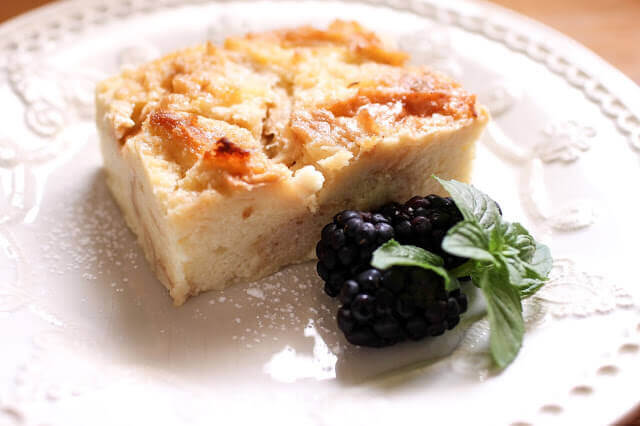 Ingredients :
2 loaves of french bread or french baguettes
2 cups of heavy whipping cream
3 cups of whole milk
1 cup of granulated sugar
6 large eggs
1/4 tsp salt
1/2 vanilla bean (scrape inside of pod)
1 tsp vanilla extract
:::::::::::::::::::::::::::::::::::::::::::::::::::::::::::::::::::::::
1 cup of brown sugar to sprinkle on top once ready to bake
Preheat oven to 375°.
Generously spray a deep 13x9-inch baking dish with baking spray.
Place cubed French bread in dish and allow to sit and dry out for at least an hour.
In a large bowl, whisk together cream, milk, sugar, eggs, salt, vanilla bean and vanilla until smooth. Pour cream mixture over bread. Gently stir bread, making sure the bread is soaked. Let it soak for at least 10-15 minutes.
Sprinkle 1 cup of brown sugar evenly on top and do not stir once the brown sugar is added.
Spray tops of bread cubes heavily with baking spray. Cover the bread with aluminum foil.
Place baking dish on a rimmed baking sheet. Pour water on baking sheet. Bake for 1 hour then remove the foil and bake for another 30-45 minutes or until top is golden brown. Allow it to cool until room temperature before serving. Store in the refrigerator.