Our week through my iPhone .........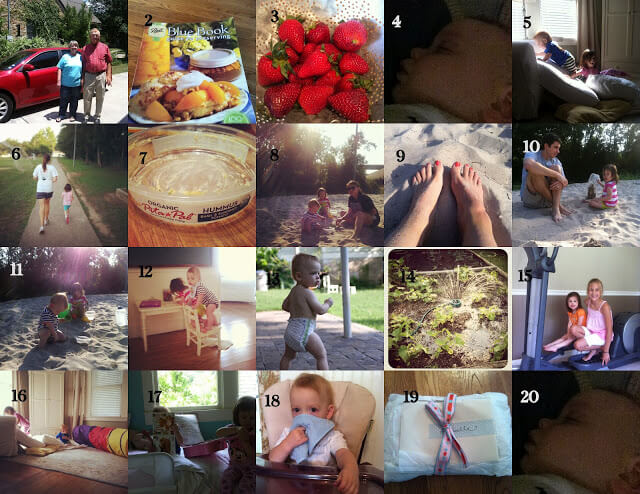 1Nonnie and PawPaw came to visit in Nonnie's new car.
2 Getting ready for canning season.
3 Strawberry jelly will be first.
4 I love that Bubby falls asleep in my arms on Sunday because his nap gets stretched from going to church.
5 Playing in the morning sunlight
6 "Runnin' errands" together aka jogging
7 My first container of Hummus went over rather well. Now I'm searching for recipes to make some myself.
8 Playing in the volleyball court sand.
9 Love sand in my toes.
10 Playing with Daddy.
11 This boy would have stayed for hours.
12 He's crazy I tell you!
13 Took his first steps this week!
14 Looks like we might get some produce from our garden.
15 Playing with friends.
16. More morning craziness.
17. Bubby read a book for the first time this week while Sissy played her guitar.
18. He's such a ham.
19. The day ended with a present from Aunt Alli.
20. Bubby is feeling a little under the weather :(
Hope y'all had a good week! I'm so excited that it's Friday and my Hubby is done with work!!!! Here we come Summer break 2012!!!