The last few weeks have been filled with days of feeling overwhelmed and then followed by a day or two of encouragement and feeling like I'm capable and then followed by another few days of feeling overwhelmed. I feel like this comes in seasons for me but for some reason this season is lasting longer than I'd like for it to. Well, I say that but then again when I reach the point that I'm at is when I really and truly see my need for my sweet Jesus. Daily.
Sometimes this whole being a mommy, wife, part-timer, blogger, friend, bible study goer, keep my house in order, make dinner, get groceries, pay the bills, get up and get dressed, give my kids one-on-one attention, give my husband one-on-one time, get in my recommended exercise, brush my teeth, keep up with the laundry, be a thoughtful person, make dinner each.and.every.day. and the overwhelming list goes on. Seriously...it goes on and on and on. It's so stinkin' hard some days yet I see beauty in each and every day. I see that the Lord is growing me closer to him through these hard times. I see that I'm learning to lay myself down and what I deem important. I'm encouraged to see this life through his perspective.
You see last week I attended a new bible study with a group of moms. We will be studying Beth Moore "Esther: It's tough being a woman." Click
HERE
if you want to check it out. Anyways, when I signed up I really didn't think I needed it. I didn't really know what I had signed up for but when I sat down and watched the video my eyes filled up with tears as I reflected on the emotions and hardships that are wearing on me right now. Nothing you need to call me or text me about, just normal woman stuff. Comparison, balance, expectations, comparison, insecurity, emotions, and did I say comparison? The video had me in tears one minute and laughing the next. Kind of my life right now. I'm so excited to dig in deep with this group of women and in the word. I think it's just what I needed in his perfect timing. God's doing that a lot right now in our life. His timing is always perfect.
In the video Beth Moore shared that she took a survey asking woman the three hardest things about being a woman. She shared some of the responses and this one had me rolling.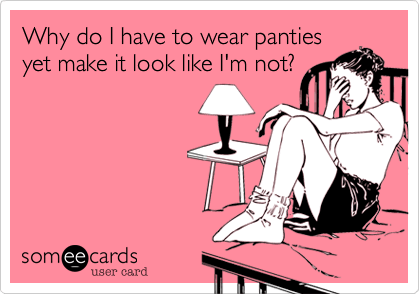 So true isn't it? Just one of the many expectations we have as woman. This one being on the lighter end of the spectrum but made me think, "yeah...why the heck do we have to hide the fact that we wear panties?" Anyways, I'm hopeful for the future and ready to share more of this journey with you. If your local and want to join in please, please, please send me a message or leave me a comment. If my mother in law is reading this...... I'm not pregnant;)