Maple glazed bacon wrapped green bean bundles if you will, have been a family favorite for many years. This is the most delicious recipe I have ever had for green bean. Anybody who has them for the first time always begs for the recipe. Let me know if you try them or if you make a similar recipe.
What you need:
1/2 stick of butter
1/2 cup of brown sugar
1 Tablespoon of Maple Syrup (not pancake syrup)
2 Tablespoons of soy sauce
1 Tsp of garlic
1 package of bacon cut in half ( I use the side with less fat )
1 pound of green beans, washed with the ends snapped off
*If you don't have Maple Syrup and don't want to spend the money on a bottle you could always buy Maple Bacon to get the same flavor.
Melt butter
Add brown sugar
Maple Syrup
Soy Sauce
Garlic
And whisk until it's a syrup like consistency.
Grab a handful of green beans and a half of a slice of bacon and wrap the bacon tightly around the bundle.
Place the bundle in a casserole dish with the end of the bacon side down. This creates a seal holding the bundle together as the bacon cooks.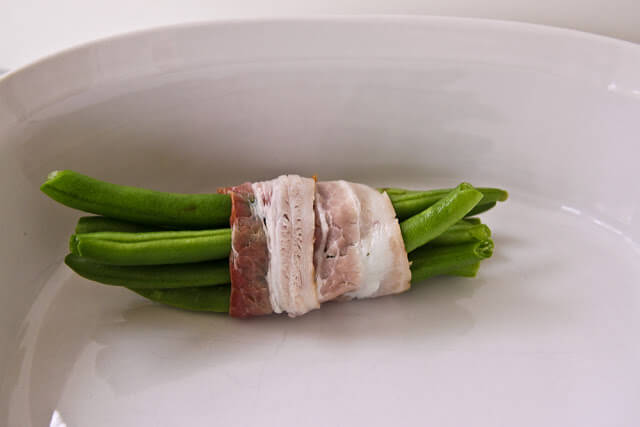 Ladle the mixture over the bundles.
Didn't she do an awesome job?
Place in the oven at 375* for at least 25-35 minutes. I leave it open the first 15 minutes and place a lid or foil on for the remaining time.
Can you see where the other half of the bacon went? My husband loves this meal! Who doesn't love a bacon wrapped dinner?
I hope you give this recipe a try!