Lately I've stumbled across some fabulous Spring wreaths as I surf around blogland. I was inspired to make one for myself when I saw a wreath on
Jones Design Company
.
I also like
this
one.
I already had supplies for this project and decided to forfeit nap time yesterday in order to do some last minute crafting before baby gets here. I know sleep will be what I need in the weeks ahead but for right now I'm enjoying time alone in my craft room doing whatever my heart desires. Crafting is therapy for me. Too often I have something I HAVE to do but when I get in my craft room I can wear out my glue gun and run with any ol' idea that comes into my head.
Like this project. I didn't follow all the steps. I left off the ruffle, I didn't feel like spending that much time on it so I just did my thing and added anything that was lying around that I thought might work on this wreath.
I want to encourage you that crafting can be done on a budget. Most of my supplies for this project had been collected from resale shops. The linen that I used to wrap my wreath is actually from a pair of linen shorts from the 25 cent section at the thrift shop. Fabric is everywhere. You don't have to buy it off a bolt at a store. I often buy clothes at yard sales and thrift shops never intending to wear the item but to cut it up and use it to make a pillow or what have you.
Wreath $2.00 (Hobby Lobby)
Linen $0.25 (thrift shop)
Nest $0.15 (thrift shop)
Wooden Eggs $1.00 (Hobby Lobby)
I already had the paint, glitter, glue, moss and lace.
Total spent : $3.40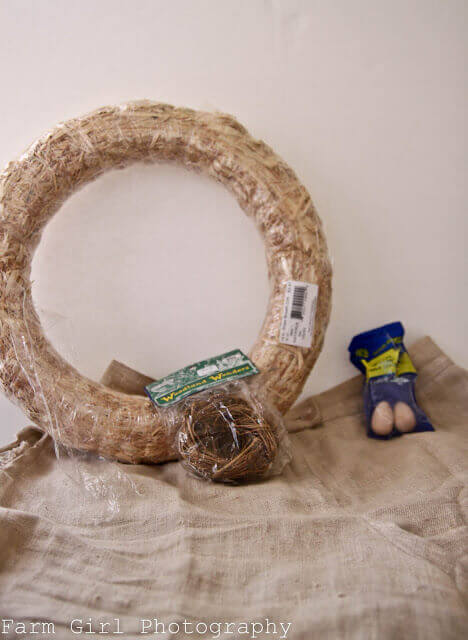 Here's what I came up with. It makes me happy when I walk up to my door.