I kinda go through food phases.
I get stuck on something and I have to have it for a few weeks in a row.
Right now it's
Brianna's New American Pasta Salad
.
It's the perfect snack when I'm hungry in between meals and it's a great side dish.
I make a big batch of this at the start of my week and eat on it all week long.... and so should you....cause' it's dang good.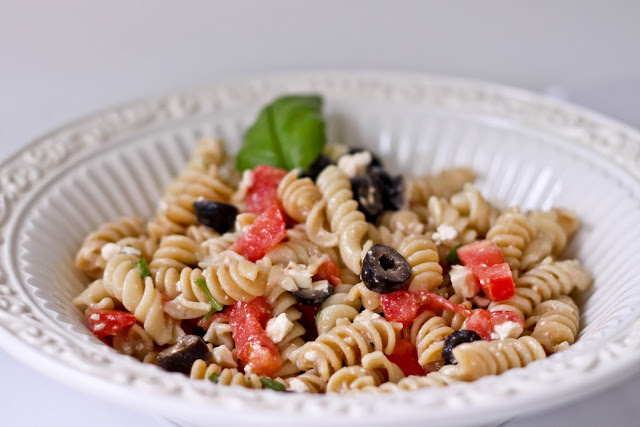 I usually half this order:
1 16 oz box of Rotini
1 8 oz container of crumbled feta cheese
2 cans of black sliced olives
2 whole tomatoes or 1 pkg of cherry tomatoes
1/4 cup fresh sweet basil, chopped
1/4 cup pine nuts (optional)
1 bottle of Brianna's New American Salad Dressing
Cook pasta in salted boiling water according to package directions, drain and allow to cool. Once the pasta reaches room temperature add all the ingredients, mix thoroughly and chill before serving.