Here are some things that have been going down at the Farmer home.
Arabelle went swimming for the first time, she wasn't a fan at first but enjoyed it the next day. She likes swimming even better if it means she gets to take her bath outside.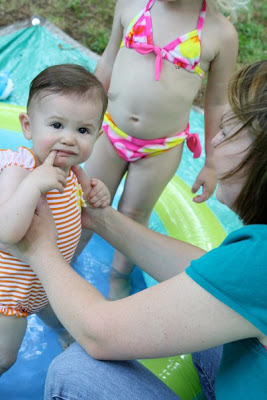 Our garden is finally taking off and I'm loving it. The tomatoes are doing great and if all goes well we will be eating them all summer. The potatoes are almost ready to come out of the ground and Matt might be the one digging deep for those.
We re-did the main bathroom. A friend of a friend was changing her bathroom and was getting rid of this shower curtain when I emailed her and asked her if she wouldn't mind sending it my way. When I hung it up I was surprised to find that it was a good 12 inches from the floor, unlike my other curtain that fit perfectly. So I rummaged through my stuff and found a linen tablecloth I got at a yard sale.It had perfect detailing so I used the edges to make the ruffles. I ruffled two 6" inch layers and attached them to the bottom and now have a perfect "new to me" shower curtain in our bathroom. I love turning another persons trash into a treasure!
Old
New
I have a helper in the kitchen and just about everywhere I go.
I learned how to make a slipcover!!! Who new this was possible?? I found
this
blog and was inspired to try it for myself. Had I known how to do this last year we wouldn't have thrown away our super huge comfy couch. I miss that couch so much....oh well.
I found this ottoman at the mission for a few bucks and with a little white denim, thread, needles, serging, and sewing and it looks as good as new.
Before
After
My next project is a glider/rocker I found at the mission. I saw this picture on a blog and thought it had the same bones...well see if I can make it happen.
(Grey chair in the top right hand corner)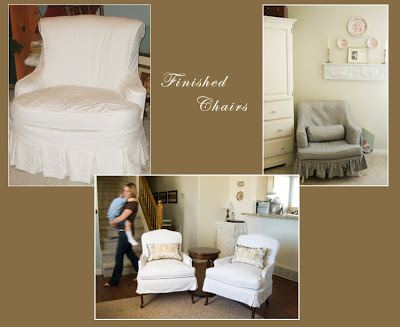 (Middle chair)
I work on my projects while my sweet girl is doing this. I love sneaking in and looking at her. Even though we have a video monitor I still have to go in there and look at her for myself. I just love it!
I better get back to more fun stuff like this...