2009 has been the longest year for me in all the best ways. I guess when something as profound as life as the arrival of your first born occurs it makes the year very significant. Last year I had no idea how the Lord was going to change our lives and our hearts. At this very time last year we had a crew of people helping us move into our home, the Glasco family was painting every dingy nook and cranny in this house as the Robinson family was cleaning out our old apartment and moving the last of our boxes into the garage. Matt and I brought in the new year of 2009 on a pallet on the floor in a cold and empty room. Tonight we sit in a cozy warm home with a sweet sleeping baby tucked away safely in her precious nursery.
2009 had many ups and downs and I am so thankful to be in a place where I am looking forward to the continued journey of this greatness in 2010. The Lord is doing great things in my heart and in my life and because of his work on me there is a direct reflection of these changes in my marriage and in my family. He has given me an appreciation for many simple things in life that I had been overlooking. I see things with a new perspective. Typically I feel like I finish a year with regrets and look forward to a new start with the new year but because of all these things I have mentioned I don't feel that way and I am so excited about that. I know that might not make much sense. I'm just thrilled to continue a beautiful journey instead of feeling like I need to erase an old one and start new. Anyways, maybe more to come on that subject as it progresses.
Because I use this blog as a documentation of all things Arabelle I need to catch up on some things that have happened lately.
Sitting up and crossing her legs all the time.
Rolling all over the place, scooting, getting in sitting position from laying down and laying on belly and scooting back and forth...really trying to crawl.
Sitting in a big girl high chair and saying goodbye to Bumbo.
Sat in a high chair at a restaurant for the first time (of course it was wings n more).
Fake crying- yes, she now knows how to get her way!
Clapping, waving and shaking her head no.
Drinking juice and trying new foods.
And in 2010 she will be training and competing in a 10K....That's right folks...Matt entered me in a 10K and Arabelle has no choice but to train with me.
Now I am going to do my best to recap the year with a few pictures.
I know we are fast forwarding all the way to May but did anything really matter until then ?....
We became a family of three.
We worked on this a lot!!!
So that it could look like this.
A few changes on the inside..
While we were working on that the little miss was just chillin
We took our first few trips as a family and my dad came for a visit
The Cubs went to State in Football
So I missed a lot in between but this mama is tired and I wanted to leave you with this.....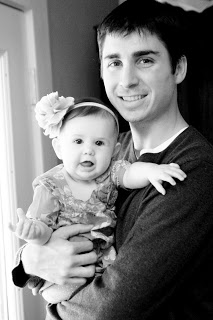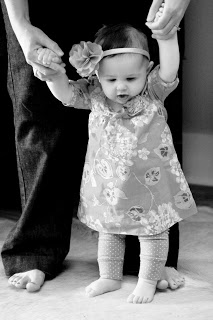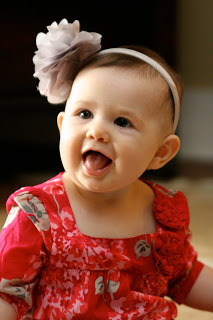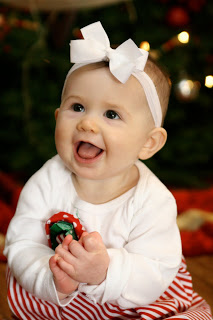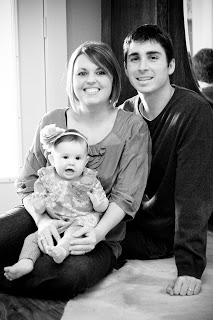 God Bless you all! May we seek the Lord in new ways and grow in him in this new year.