I don't have a post planned to follow this one but I'm sure there will be one as I know this is a process. First, I would like to thank all my readers here on this blog as well as all of my Facebook friends for being so faithful with your comments, advice and encouragement. I read every single comment and email even if I don't promptly respond, please know that they mean so much to me.
Potty Training Boot Camp Day 1
We started potty training for real today. By for real I mean I actually took away the diapers and let Little Miss bare bottom it today. Per the advice of other moms I did the naked booty, salty food and lots of water method. I spread quilts on all the area rugs so they would catch any accidents and then I placed garbage bags under the slipcovers of our furniture. The entire house is wood floors so that helped a lot. I had taken her to get big girl pretty panties the night before but she wasn't totally interested mainly because it wasn't "Winnie the Pooh" or "Sesame Street." First thing in the morning I offered Little Miss her favorite salty chip "Funyuns" and her normal apple juice and water (a little heavier on the juice this time.) She drank it fast and then headed over to the living room to play. It wasn't but five minutes later that she said, "oh no, Mommy I'm wet!" We ran to the potty and she sat down and finished her business. I jumped up and down with excitement and was so proud of her! I had to make a big deal about it to start the day off right. I rewarded her with a Teddy Graham and the Teddy Graham bear did a dance for her. This really struck a cord with her and she loved it. The better part of the day was spent in and out of the bathroom running to the toilet. I'm so proud to report that there were no other accidents until right before bed in her pj's. I think this one happened because she thought she had something on to catch it. As soon as she realized she didn't have a diaper on she ran to the potty to finish. I couldn't be happier for my little girl. I can't believe how fast she caught on. Up until this point I had left the initiating up to her. She was still wearing a diaper and I was just counting on her independent personality to do the initiating. Looks like I just needed to give her a plan of action and she took charge.
I'm not yet sure how to handle the sleeping situation as she is very new to this. I cut her off from drinking anything after dinner and had her go potty three times before bed. I put her in a cloth diaper because it feels more like panties and it doesn't hold as much. Even if it leaks through maybe that will help with the process? I don't really know. I know I want her to feel proud of herself with what she CAN do during the day. What are your suggestions for night time?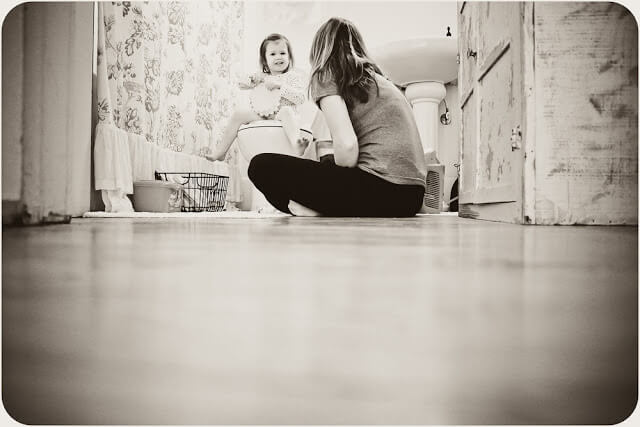 While I'm ready to not have two children in diapers it doesn't change the emotions that come with new milestones. It's during these times that I'm reminded how fast this life is. It wasn't long ago that I was changing a dozen diapers an hour with the size "N" on it. I want to savor every moment I have with these precious children God has given me. It's the small things in life that end up being big things.Now, I'm all emotional and have this song playing in my head. The first time I heard this song I was driving to my last doctors appointment before having Little Miss. I'm pretty sure when I walked into the office they thought my water had broke because of all the tears that had fallen into my lap while driving. It still get's me every time.