One of my favorite blogs{
ashleyannphotography
} posted a DIY on
Design Sponge
that I absolutely love.
The basic concept is to jot down a one liner of what happened each day. I love this idea and started it this year. I look forward to looking back through the years to be reminded what I was doing on that same day 2,5, and 10 years later.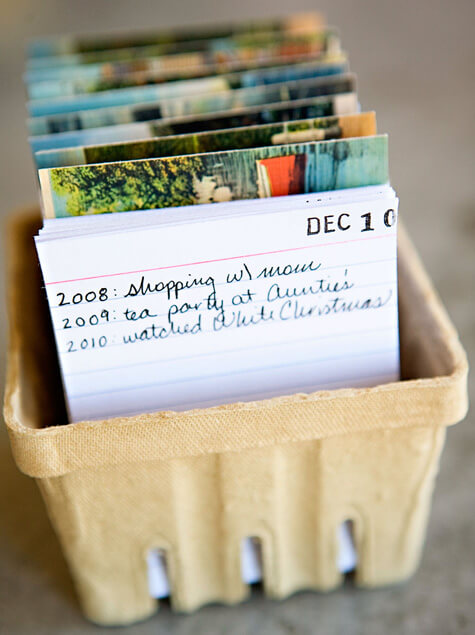 When I entered into motherhood I realized two things
1. I wanted to cherish and remember every moment.
2. It was impossible to remember and document everything.
This blog is a great way for me to document our life and preserve some of these memories and this one-line-
a- day idea is yet another simple and low-maintenance way for me to document life and memories. I don't think I will ever regret documenting memories.....my only regret would be to not make time to do this.
It's nothing deep so far and nothing out of the ordinary. So far mine reads
Dec 31- Drank root beer floats with the hubby to celebrate the new year.
Jan 1 - Painted furniture, finished the patio, caught the stove on fire and went to the drive in movie.
Jan 2 - Matt helped me deep clean our bedroom and I read the Bible in bed with AB at her request.
I made a slight modification for mine and used a mini notebook per month rather than note-cards. I just felt like I might keep up with the notebook a bit better.
Go check out her idea
HERE