This past weekend my sweet friend Alli came to visit us. I was so excited to get to have some girl time and head out to the antique festival together. This girl is some kind of creative. She is fearless with making crazy decorating ideas really happen. She is the creative genius that designed Arabelle's mobile from Christmas ornaments, a wire rack, fishing line and tulle. Every time she comes I get inspired to re-purpose things in my house and change it up a bit.
Friday morning we headed out to Round Top. It was such a beautiful day! We drove in separate vehicles because I had the stroller in my car and we wanted to make sure to allow room for the junk we hoped to find. I led the way and told her to honk the horn if she saw something and wanted me to stop. We didn't even get past the first row of tents when I spotted a vendor that was just her style...I didn't need to hear her honk to know I needed to pull over. Alli fell in love with a vanity and night stand and I stumbled upon a toddler daybed that I knew would work perfect for a reading spot for the basement and later a bed for Arabelle.
It was at this point I think Arabelle realized it was going to be a long day. We hadn't yet reached our destination and the car was already a mess.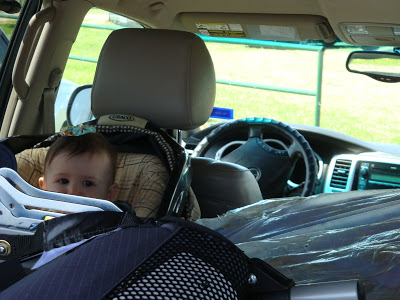 We stopped in to see my friend Tara at Royer's Cafe and ate lunch to make sure we had fuel for the day. We ate pie and Arabelle ate the table.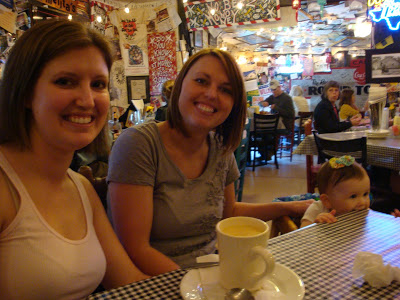 The stroller was perfect for carrying a little trooper girl and some of the stuff we found.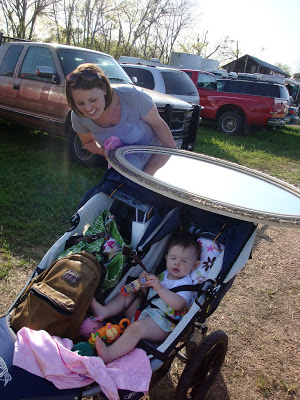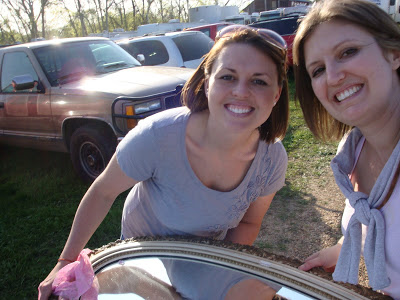 Alli always brings me the sweetest gifts when she comes but this time she brought something I will always cherish. She brought me some old wooden crates from the family peach orchard. Alli grew up in the Fredericksburg area on a peach orchard and she told me how her Dad paid her $1 a crate to paint and label it with the family name.I am so thankful to have a piece of her childhood right at my back door.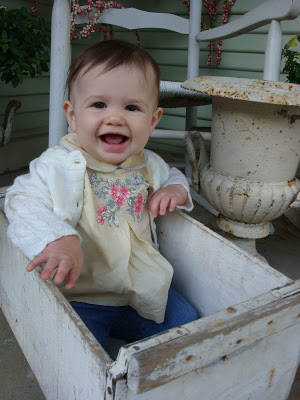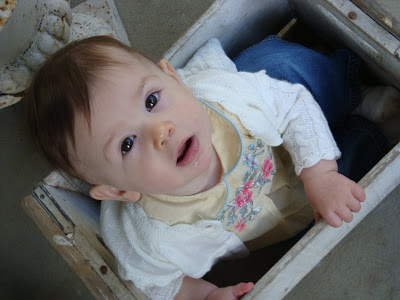 Sunday morning Alli stayed home with Arabelle so we could go to Church with no distractions. It was just what we needed. Worship was beautiful...perfect in every way. When we came home Alli said she thought Arabelle was getting sleepy but was trying to hold her off until we got home. Arabelle had crawled to her room and then Alli couldn't find her, she looked under the bed and found Arabelle sucking her thumb and trying to go to sleep. Poor baby girl...she is so sweet.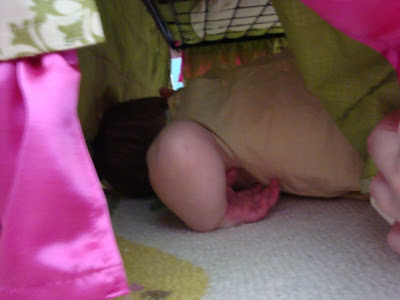 As soon as Arabelle went to sleep Alli went down to the craft room and pulled together supplies to craft a rosette to match the outfit Arabelle had on that day.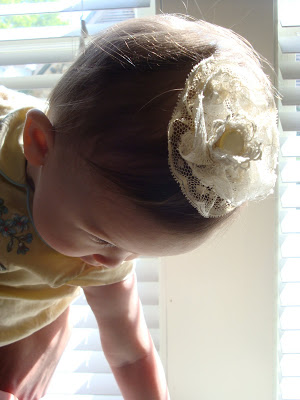 We had such a great visit! I am so thankful for a precious friend that loves me like family and loves on my baby girl. All weekend people would ask us if we were sisters, at first we thought it was funny that people thought that and by the end of it we just replied, "might as well be."